Brexit: Possible delay to next round of talks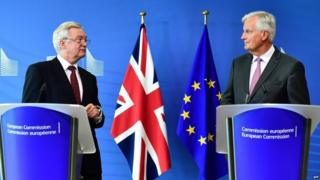 The next round of Brexit talks between the UK and EU could be postponed by a week, officials have suggested.
The fourth round of negotiations was due to begin on 18 September.
But there has been speculation that they could be moved to accommodate a major speech by Prime Minister Theresa May on the issue of Europe.
Michel Barnier, EU's chief negotiator, told the BBC it was "possible" this would happen but No 10 said nothing had been "formally agreed".
"The latest position from our perspective was that both sides said they were keen to be flexible but we hadn't formally agreed anything," a No 10 spokesman said.
Mr Barnier has also emphasised the need to be flexible while also warning that the "clock is ticking" if an agreement is to be reached by the time the UK is scheduled to leave at the end of March 2019.
Talks between the two sides, led on the British side by Brexit Secretary David Davis, have been taking place once a month since June.
The UK is keen to intensify their pace and open discussions on the UK's future relationship with the EU, including trade, as soon as possible.
At the moment, the focus is on core separation issues, including the rights of EU nationals in the UK and British expats on the continent, the future of the Irish border, and financial matters.
Reuters quoted diplomatic sources as suggesting that there could be a hold-up of a week in the talks for an event in the UK's "domestic political calendar".
Mrs May is reportedly preparing to make a major speech on Brexit on 21 September.
This has been dubbed Lancaster House 2.0 by the media – in reference to a speech she made in London in January, widely regarded at the time as the government's Brexit blueprint, which confirmed the UK's intention to leave the single market and customs union.
The PM's loss of her Commons majority following June's snap election caused turmoil in the party and has made her more vulnerable to possible rebellions over key Brexit legislation in the House of Commons.
Mrs May, who has insisted her Brexit strategy is unchanged and she wants to stay as leader for the "long term", is due to address the Conservative Party conference at the start of October.